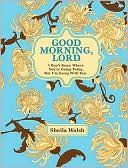 Good Morning, Lord
I Don't Know Where You're Going Today But I'm Going with You
By Sheila Walsh
In this gift book, Sheila Walsh encourages the reader to delight in each day as an adventure in trusting a faithful God." A devotional for women, this book uses real life situations that are often faced by women to encourage trust in God. With room for journaling and reflection and questions to prompt such thoughts, this book acts as a daily encourager and pause for reflection amid the daily chaos of life.
Walsh offers hope through her word, uplifting encouragement and fosters growth and trust in God. Useful as a personal study or even in small groups and bible studies, this book offers great possibility for women of all ages and stages of life. With short chapters, easy to read text, engaging thoughts and encouraging words, this book can be a strength in times of weakness. Spiritual truths are conveyed in non-threatening and simple ways that any reader, regardless of their stage in their faith and trust in God can learn and grow, from non-believer to the most seasoned Christian.
This book will become a part of my devotional and study book collection and be on my list of books to both recommend and give to friends, family and other women in my life.
Disclosure of Material Connection: I received this book free from Thomas Nelson Publishers as part of their
BookSneeze.com
book review bloggers program. I was not required to write a positive review. The opinions I have expressed are my own. I am disclosing this in accordance with the
Federal Trade Commission's 16 CFR, Part 255
: "Guides Concerning the Use of Endorsements and Testimonials in Advertising."