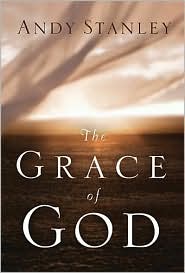 The Grace of God
by Andy Stanley
Such an familiar word, ingrained in the Christian vocabulary... Grace. Yet, do we really understand what this powerful little word means? So few even stop to consider the depth of love behind this word, or it's impact on our lives daily.
Andy Stanley breaks down the concept of Grace, making it understandable and adding value and impact in his newest book. Throughout this book, he breaks down familiar bible characters, their stories, and the way God shed grace on them, giving them what they did not deserve. People like Joseph, who started a lowly shepherd and went on to rule a nation; Jonah, who turned his back on God several times; and Adam and Eve, at the start of it all, receiving grace in the midst of complete disobedience.
God's grace is not fair, and Andy Stanley shows how this tilted scale only demonstrates God's love for us all the more. While not a sit down and read cover to cover book for me, I could take it one chapter a day. A lot of depth and cause for pause and consideration is required to truly get the full impact. I truly love this book for it's ability to give me a deeper look into who God is and to help me understand grace in a new light. A book not for the light reader, but highly recommended for all Christians to read at least once.
Disclosure of Material Connection: I received this book free from Thomas Nelson Publishers as part of their
BookSneeze.com
book review bloggers program. I was not required to write a positive review. The opinions I have expressed are my own. I am disclosing this in accordance with the
Federal Trade Commission's 16 CFR, Part 255
: "Guides Concerning the Use of Endorsements and Testimonials in Advertising."