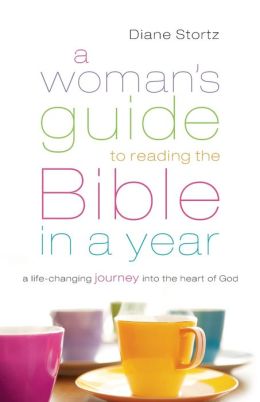 A Woman's Guide to Reading the Bible in a Year
by Diane Stortz
A book geared especially toward women and their needs for social iteractions and friendships, this guide begins with a little introduction and encouragement. Built around the idea that a group of women should seek to accomplish this task of reading through the Bible in a year together, stories are shared that give the reader ideas of success and support.
Set apart into weeks, each week begins with a little background about the verses that will be read for the week. Following that, there is a list of books, chapters and verses to be read, one for each day. Checkpoints are listed for the reader to have some points to look for in their reading to keep things centered. A journal portion of the page is left for the reader to answer questions about what they have read, allowing the reader to jot down verses or passages to remember, something that was learned or gained, and any questions. This page then proves helpful for the weekly group meetings for discussion.
While inteneded for group use, this book is equally helpful for reading on ones own as well. Simple and easy to follow, the guide breaks the Bible down into manageable portions that offer success. I enjoyed the intro for each week, as it guides the reading rather than just offering a list of verses to read. A book that will surely stay in my collection and one that I am recommending to all of my female friends. A good place to condsider starting a small group.
I was provided a free copy of this book for review through Waterbrook Multnomah's Blogging for Books program. I was in no way compensated for this review nor was I required to write a positive review.