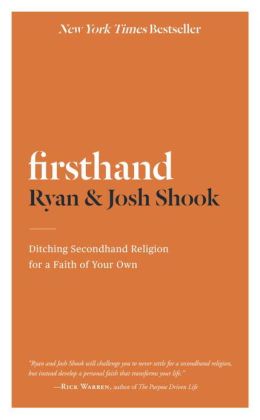 Firsthand: Ditching Secondhand Religion for a Faith of Your Own
By Ryan and Josh Shook
A faith- challenging book sure to cause the reader to take a deeper look at their Christian faith, or lack thereof. Written in a very non - confrontational way, filled with real life examples and thoughts, not only from the authors, but from a wealth of others, there are a variety of ideas and faith levels represented. Readers will find not only conversation about having one's own faith firsthand as opposed to believing through parents or other adults, but also ways to dig deeper, search more completely and grow stronger through reading and actions. A great book for all levels of faith, each reader is sure to find encouragement and challenge to know Christ firsthand. Well worth the read and a fantastic book to pass along!
I was provided a free copy of this book for review by WaterBrook Multnomah's Blogging For Books program. I was in no way compensated for this review nor required to write a positive review, all thoughts are my own.
Find it at Barnes And Noble and other book sellers nationwide, beginning March 19, 2013!