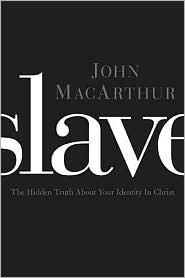 Slave:

The Hidden Truth About Your Identity in Christ
by John MacArthur
An intriguing concept - to consider one's relationship with Christ as one of a Slave/Master. In MacArthur's book, he explores this concept, backing up his thoughts and ideas with many references from the Bible and other scholarly people and sources. A very deep and thought provoking book.
It took me some time to get into this book. Definitely not for the light reader, it is involved and takes considerable time to thoroughly wade through all of the chapters and give thought to the concepts presented. Also not for the reader looking for a quick read, this book took me considerable time to get through, and I consider myself a fast reader. Deep concepts, many references listed (some taking up half a page), and fairly technical wording make for a slow read.
While the ideas are challenging and force the Christian reader to look into themselves and they way they view their relationship with Christ, this book also offers personal reflection and challenging thoughts that may not be agreed upon by all. Recommended only to the serious reader with time for reflection, deep thought and conversation about this topic.
You can read the first chapter at here:
http://booksneeze.com/blogger/download/9781400202072
Disclosure of Material Connection: I received this book free from Thomas Nelson Publishers as part of their
BookSneeze.com
book review bloggers program. I was not required to write a positive review. The opinions I have expressed are my own. I am disclosing this in accordance with the
Federal Trade Commission's 16 CFR, Part 255
: "Guides Concerning the Use of Endorsements and Testimonials in Advertising."