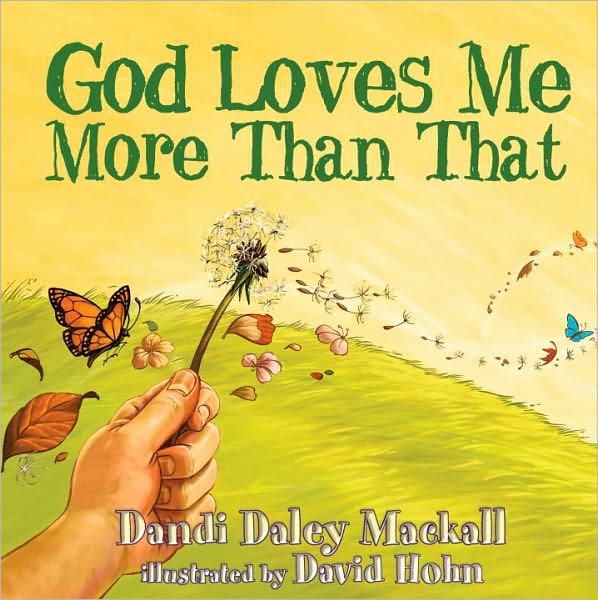 God Loves Me More Than Tha
t
by Dandi Daley Mackall
illustrated by David Hohn
What an absolutely adorable book! An instant favorite at our house.
God Loves Me More Than That explores how much, high, wide, big, loud, and soft God's love is for a young child, for all of us. Through cute rhymes and comparisons that are familiar to a child (a cheering crowd, buzzing bee, kitten's sneeze, ...) Mackall introduces children to the many ways we might begin to understand how big and great God's love for us is - much more than we can understand.
Illustrations are realistic in that they feature a young boy in each situation interacting with our familiar world. Cartoonish in that the situations depicted are not always something we can do (ride on a bee). Colors are bright and engaging, fun and whimsical, delightful to look at and offering many ideas to discuss along the way.
The message is sound and easy for a young child to understand. The rhymes and fast moving pace keep even young children, toddlers and babies interested. Great for ages 2-6, adaptable either way. Such a simple message yet so profound and important to the curious little minds who hear and read this book. I absolutely recommend this with my highest ratings to every family!
I received this book for free from WaterBrook Multnomah Publishing Group for this review. I was not required to write a positive review nor was I compensated for writing this review. All opinions are my own.