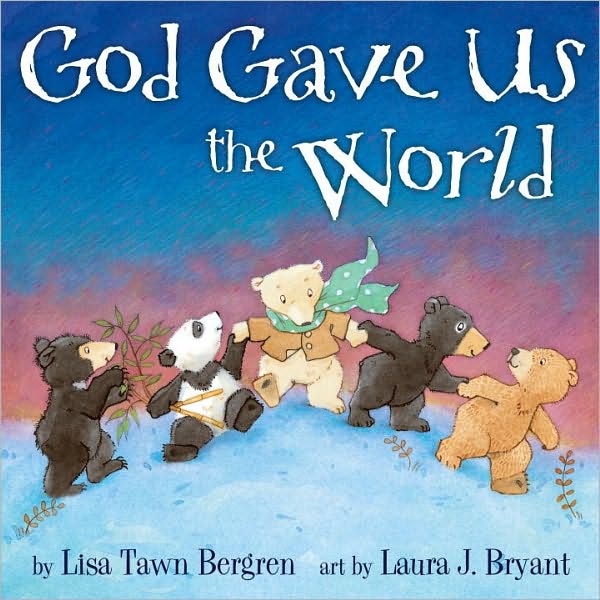 God Gave Us The World
by Lisa Tawn Bergren
illustrated by Laura J. Bryant
A sweet little book for elementary aged children, teh story walks a child through the ideas of why God made us all different an why there are so many places to live in the world. It addresses the idea of taking care of the world God has given us as well.
Through a trip, Little Bear and her family discover different kinds of bears, the places they live, and the things they eat. Each differs from Little Bear in some way and she is curious about why there are differences among us. THe concept of creation and discussion of God's love for us and our differences encourages children to appreciate our differences and to make friends with others even though they are not the same.
Themes of responsibility for our planet and acceptance of diffeences in ethnicity are addressed in a non-confrontational way that a child can understand and transfer into their own lives. Illustrations are soft colored and friendly.
The story flows well, but lacks some development in that the illustrations jump from location to location, not really flrowing well with the words of the story. Some pictures depict what is being discussed while others do not seem to fit real well. The story is a bit wordy at times and could be simpler while still getting the point across. Also, a little deep in concept for younger children. While geared toward younger children, older kids will better understand the lessons involved in the story.
Overall, a 3 out of 5 stars for me.
I received this book for free from WaterBrook Multnomah Publishing Group for this review. I was not required to write a positive review nor was I compensated for writing this review.