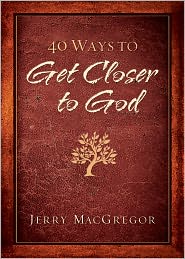 40 Ways To Get Closer To God
by Jerry MacGregor
For the Christian looking to get a little deeper into their walk with God, this book offers 40 opportunities to stretch and grow while becoming more active in one's faith and reaching out to others. 40 Ways offers 40 different activities designed to stretch and grow the reader while providing practical applications in the form of challenges.
Designed to be a 40 day walk, this book could easily become a weekly study for the individual or for a group. Each chapter is a short 4 or so pages, complete with a story, challenge, scripture and journaling space.
Topics include: serving others, scripture memorization, prayer, scripture reading, and visiting elderly in a nursing home among many others. Designed to force one out of the box a little, there are some challenging chapters that force one to stretch outside of comfort limits, but to the reward of growth. A definite keeper, this book is for the Christian who needs a little shove to get moving, or for those who are wanting some more depth to their walk.
I was provided a copy of this book for review by Bethany House Publishers. I was in no way compensated for my review, nor was I required to write a positive review. All thoughts on this book are my own.