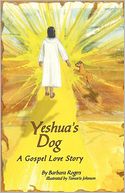 Yeshua's Dog: A Gospel Love Story
by Barbara Rogers
Yeshua's Dog is a fresh look at many of the stories surrounding Jesus' presence on earth, as found in the New Testament of the Bible. Through short chapters, each containing a single illustration opposite the chapter page, readers follow a forsaken and forgotten dog as it finds it's way into the presence of Jesus and finds love and acceptance there.
Stories of Jesus are told from the dog's point of view and offer a fresh look at many of the stories. It also brings to light the characteristics we humans often exhibit in relation to faith and following and compare them to the childlike faith and trust of a dog. There is much to be learned from this dog and his journey with Jesus.
As a dog lover, I really loved this spin and found the book refreshing. A nice read for animal lovers or not, this book has something to offer for everyone. While I feel the text is most likely geared toward upper elementary and middle school students, it can be enjoyed as a read aloud book for younger children, or as a nice light read for adults as well.