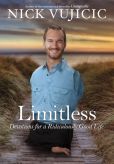 Limitless: Devotions for a Ridiculously Good Life
by Nick Vujicic
Yet another fantastic book written by the inspiring and encouraging Nick Vujicic. This devotional is packed with 50 devotionals on the topics of hope, blessings, faith, passion, servanthood and so much more. Each begins with a bible verse, contains a 2 page devotional with stories from Nick's life to offer encouragement and a Life application section to end in which Nick offers focus and ideas to apply what the reader has just absorbed.
I have thoroughly enjoyed each of Nick's books thus far, and was not disappointed when I opened this book. Fantastic for a gift, it is also perfect for a little time of personal focus. Full of positivity and real life that makes the reader consider who God is and how He cares for each of us and has a purpose that is different from any others, this is a fun devotional to read. Straightforward, honest and down to earth yet entertaining and uplifting, it is an enjoyable read.
I highly recommend this book!
You can find a copy at
Barnes and Noble
.
I received a copy of this book for free to review through the WaterBrook Multnomah Blogging for Books program. All thoughts expressed are my own, I was in no way compensated for my review or required to write a positive review.