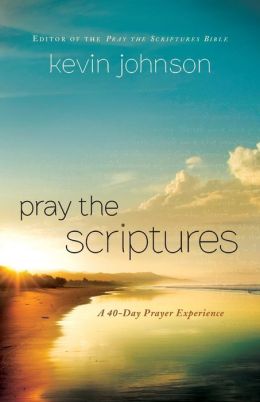 Pray The Scriptures: A 40-Day Prayer Experience
by Kevin Johnson
Pray The Scriptures is a wonderful book to get life centered back on prayer and conversation with God. Each chapter is centered around a scripture verse, which is broken down into segments, and the reader is guided through a reading of the scripture and given prompts to pray through each segment of the scripture. Space is given for opportunity to write down the prayer if desired.
Intended to be a 40-day experience, this book is easily adapted for a weekly small group study. This is a scripturally rooted resource for growth and development of a deeper prayer life. Pray The Scriptures will lead the reader to a deeper understanding of the scriptures being read, making them more personal as one not only reads but ingests and soaks in the words. Praying those promises and words back opens up new lines of conversation with God and provides a stepping stone for building a daily prayer life steeped in the Bible.
I really enjoyed exploring this book. The idea of praying the scripture is very new to me, but I had heard so much about the concept that I was very intrigued. I love having this resource to guide and get me started and feel prepared to step out and continue in praying the scripture with my daily readings. I highly recommend this book!
Find it at
Barnes and Noble
or other booksellers nationwide.
I was provided a copy of this book for free to review by Bethany House Publishers. I was not required to write a positive review nor was I compensated for this review. All thoughts and opinions are completely my own.