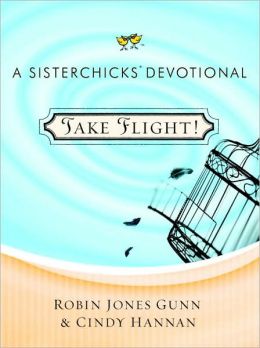 Take Flight!: A Sisterchicks' Devotional
by Robin Jones Gunn and Cindy Hannan
A devotional spin off of the popular Sisterchicks books, this book is easily read and enjoyed with or without knowledge of the series. As a reader who has not read any of the Sisterchicks books, I was able to enjoy this devotional and to understand and appreciate it with no problem.
Broken into sections, this is a small devotional with 3-4 readings per section. However, this creates a book easily used in a group study as well as personal, as it offers a quick dive into God's word through the witty writings of Gunn and Hannan. Quick to read yet so full of fun, light yet thoughtful readings, this devotional is a perfect quick study. Themed around the Sisterchicks, "a friend who shares the deepest wonders of your heart, loves you like a sister, and provides a reality check when you're being a brat.", each study contains quotes, insights from "Robin's Nest" and "Cindy's Perch", a bit of "Wit and Whimsy" in the form of a laugh or a smile, several scripture verses offering the reader opportunity to "Take a Closer Look" and a space to journal thoughts.
Well thought out and written, any woman will enjoy the journey through this devotional and gain insight and knowledge through the stories and scriptures.
You can find this book at
Barnes and Noble
or other booksellers nationwide.
I was provided a copy of this book to review through the Waterbrook Multnomah Blogging for Books program. I was in no way compensated for this review, nor was I required to write a positive review. All thoughts are my own.