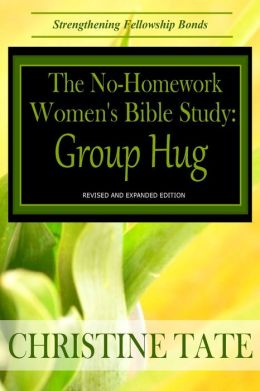 The No-Homework Women's Bible Study: Group Hug
by Christine Tate
I often desire a small group to study and learn with in my quest to grow in my faith. However, once I get to the point of determining who might be in the group with me, I come up short on what to study or where to start. Recently I came across this guide and was glad to have found the resource I needed to get my group started.
Christine Tate has written this guide with just my situation in mind. This book contains eight 1-hour bible study "sessions" that are non-denominational, making it perfect for nearly any group. Designed specifically for women, it encompasses plenty of time for talk and sharing along with learning. Each session contains an Ice Breaker, Lesson, Discussion Questions, Optional Weekly Personal Challenges and Closing Prayer. Each of these sections has a suggested time included to help the group leader guide the group while maintaining the one-hour time frame. A section for notes is included at the end of each lesson as well.
Lesson topics in this book include: Taking Care of Yourself. An Organized Life, People Pleasers, Always Be Prepared, Weight Management, Christian Relationships, Being a Virtuous Woman and Financial Health. Each lesson contains scripture, commentary, discussion prompts and activity suggestions to help bond the group and grow faith while also growing friendships.
It is intended that each group member have their own copy of this book. Some activities request that the books be passed around for Ice Breakers. This book has worked well for me in developing a consistent model for group meetings and has given us opportunity to develop a group dynamic in a non-confrontational or intimidating way. Believers from all degrees of faith and Bible experience can use this study with confidence and without fear of falling short.
In addition to this study, Tate has 10 other studies available in the Group Hug line for further group study. You can find a copy of this study or other titles by Tate
here
I received a copy of this book for free in exchange for my honest and un-biased review through the BookCrash program.