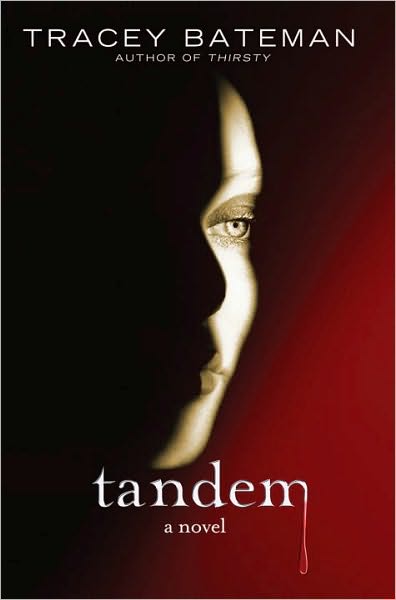 Tandem
by Tracey Bateman
Wow! At a time when vampire books are so popluar, enter Tandem, a novel written by Tracey Bateman. A completely different "vampire" book than all of the others on the market, this novel is much more adult, not focused on teen readers or lifestyle. A read so hard to put down I nearly read it cover to cover without interruption.
Quick to pick up on the story line, the reader quickly finds themselves immersed in a small town, surrounded by the past of a few characters, leading up to a breath taking and surprising end as the present day story weaves itself together piece by piece. An easy book to read, an immersing story line that deepens with each page turn, characters that become familiar as a friend and a plot that awakens the mind to a world of curiousity, intrique and mystery. As the plot thickens and the story gets deeper, the reader finds themselves stuck in the story as an observer, even a character, wishing the pages to turn faster so as to discover the final event. Filled with small town life, a little romance, history and lots of drama, sure to be a quick favorite!
Highly recommended to anyone who has read such series as the Twilight novels or other vampire type books as well as to those who have not done so. No need to be a follower or fan, this book tells the story on it's own, without hype or cult following. 5 stars in my book for creativity, uniqueness and intrigue.
I received this book for free from WaterBrook Multnomah Publishing Group for this review. I was not required to write a positive review nor was I compensated for writing this review.
Barnes and Noble Review Link: http://my.barnesandnoble.com/communityportal/review.aspx?reviewid=1575187