Bend Your Brain
by The Minds Behind Marbles: The Brain Store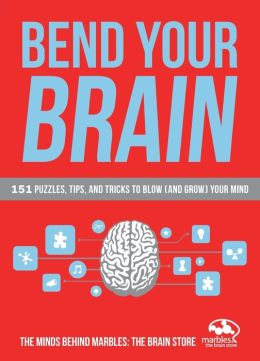 Seldom have I had such fun reading a book. While I definitely enjoy a good book and can get sucked in for hours on end, I don't often find myself calling the book fun... until now!
Bend Your Brain is a book filled with fun little puzzles designed to improve brain function in the five categories of visual perception, word skills, critical thinking, coordination and memory. Through a variety of puzzles, readers can play and increase in difficulty as they feel necessary, from "mind- warming" (easy) to "mind-blowing" (hard)
There are 151 different puzzles, tips and tricks within each brain function category, each varied in difficulty, but each engaging and fun to play while growing your mind.
After an introduction that explains the process and the reasoning, readers find the five sections, each with their specific puzzles. There are answers in the back of the book as well to check yourself. With lots of pictures that are of excellent quality and text that is varied and engaging to look at, this book is just plain fun!
I have been working through each of the sections a little at a time, still far from the more difficult levels, and am really enjoying the journey. While I cannot prove that I have gained any brain function, I do know I am being challenged. I find myself grabbing this book when I have a few moments of down time or while doing something mindless like waiting. I also have had many friends pick up the book while visiting my home, as I leave it on the coffee table, and become lost in the puzzles for quite a length of time.
I definitely recommend this book. With so many things to do and the benefit of working out your brain while having fun, there's nothing to lose!
About the author:
MARBLES: THE BRAIN STORE is in malls across the country. They and their branded products have been featured in
Good Housekeeping, Real Simple, USA Today
, and
Wired
, as well as on the
Today
show and
Martha Stewart Living
.
You can find a copy
here
!
"I received this book from
Blogging for Books
for this review."