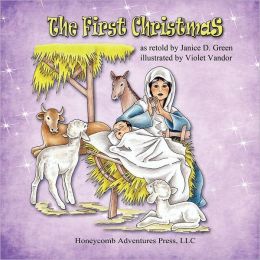 The First Christmas
as retold by Janice D. Green
illustrated by Violet Vandor
The familiar Christmas story takes a new meaning in this re-telling by Janice Green. Most appropriate for elementary aged children, each page of the story re-tells a specific moment, weaving together the entire Christmas story, and is followed by a couple of questions for the child to put it into perspective or put deeper thought into what they have read.
In thirteen scenes, Children learn about
* Messiah
* Zecharaiah and Elizabeth
* Mary and Mary's visit with Elizabeth
* Joseph visit from an angel
* The trip to Bethlehem
* The Innkeeper
* Jesus' birth
* The Shepherds
* The Wise Men
The end of the book includes an explanation of a Christmas Bible Quilt and how to make one or buy one.
This book is one that could be read in parts, with each page taking a day leading up to Christmas. Or, it can be read as a whole. Either way, there is plenty of opportunity to learn and grow with this book. The illustrations bring the reader into the story with their depictions of each scene to help children understand the message.
You can find a copy
here
I received a copy of this book for free to review through bookcrash.com. I was not required to write a positive review, all thoughts expressed are my own.