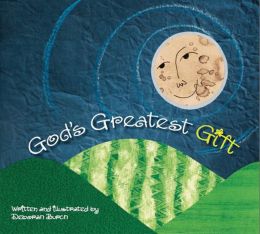 God's Greatest Gift
written and illustrated by Deborah Burch
I am always searching for good quality, time withstanding, positive message books to read my little children. When I find such a book, I am eager to share with everyone I meet so they, too, can experience the book with their little ones. God's Greatest Gift is one of those books.
From the moment I held the book in my hand and flipped through the pages, before even reading the story, I was impressed. This is a high quality book, a hard cover with dust jacket, but beyond that, the pages are durable and thick, not quite board book but much stronger than traditional paper pages. This book is one that my toddler can flip through and still be readable years later.
The story walks readers through many different things that are gifts from God - stars, moon, mountains, flowers and much more in a fun rhyme, and leads children to discover the Greatest Gift God has given us. Adults and children alike can find joy in reading this book together, and also plenty of opportunity to discuss and learn as they read. There is even a little activity for readers to do together once the story has been completed. Written by a mom of 6, this story has heart, creativity and a feeling of love woven throughout the tale.
The illustrations are quite beautiful and inviting. In scrapbook style, each page is deliberately designed with pictures that seem to pop off the page and invite the reader to imagine the textures they see. This book is truly a delight from cover to cover, each page revealing a treasure all its own. I am so glad to have had the opportunity to discover and add this book to my collection and know we will be enjoying it for years to come!
You can find a copy for yourself:
Amazon.com
Barnes and Noble
I received a copy of this book to review for free through the Book Crash program. I was not required nor compensated to write a positive review, all thoughts are my own.